Post Views
= 1387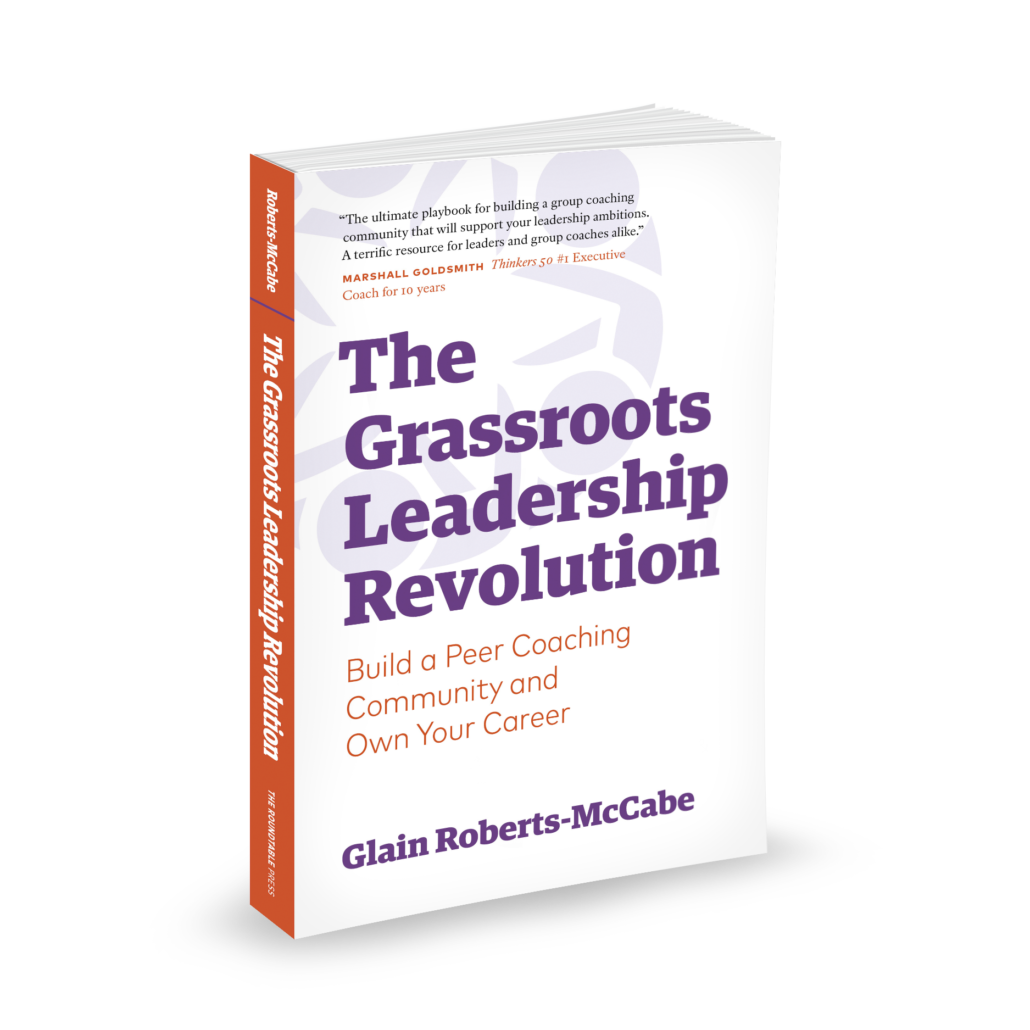 "Start your own Grassroots Leadership Revolution today. The world needs great leaders. The world needs you."

Glain Roberts-McCabe
The Grassroots Leadership Revolution is a must-read for leaders who want to develop an organization with fewer barriers to communication, creativity, and collaboration that is not defined by or limited to a rigid structure; it is also a new operating manual for individuals aspiring to improved careers. 

I was delighted to interview the author of this great book, Glain Roberts McCabe, CEO of The Roundtable, multi-award-winning leadership expert, and trailblazer; and I want to thank Ms. McCabe for her important work and contribution.
Question: Clearly your work and books reflect a passion and a mission to facilitate greater self awareness, effective leadership and better careers. What is the most important message you want to share with your readers?
That it's time to put that old adage, "It's lonely at the top" to rest. It doesn't have to be. In fact, it shouldn't be. Group coaching allows people to realize that they're not alone. This not only builds confidence, but it allows us to share our experiences and understand that there is often a common thread that binds us together—those 'aha' moments when we recognize that someone else has gone through the exact same situation and that we all struggle with the same issues.
Many of us have a case of imposter syndrome and give our inner critic too much power. By sharing personal stories and exploring our mindsets and behaviours in a safe space, we can move away from unproductive self-talk and instead connect with our bigger purpose. A supportive peer community helps leaders move to a more conscious and intentional way of leading. It's essential for creating the awareness and accountability that's needed to build capability and capacity. Building connections and communities is one of the most powerful things you can do as a leader, both personally and professionally.
Question: What makes the Grassroots Leadership Revolution a roadmap to a better career and a better company at the speed of change?
I think because it distils everything I've learned about implementing group coaching into one, very practical approach. And, it's such a profound way to take control of your career because group coaching among peers aligns, connects and accelerates common language, common goals and common opportunities.
The beauty of group coaching is that it doesn't necessitate another off-site, something that leaders dread. Rather, it's small, bite-sized sessions where the insights gained can be instantly applied to the work they're doing. It is these incremental changes to attitudes and actions that create lasting change and career momentum.
Question: How will a "grassroots leadership revolution" facilitate greater communication, creativity and collaboration-what I call the three C's of 21st C leadership success?
To have better communication, greater creativity and enhanced collaboration, leaders need to be able to work together, to engage with peers as well as their direct reports, and to harvest ideas. The future of work is all about interdependency. Leaders must be able to navigate this new era.
To do this, we need to change the way leaders learn. Too often leadership development exists in a silo, with training, coaching, mentoring, and real-world application all operating independently from each other. Group coaching blends all these components together to leverage the best of each.
The Grassroots Leadership Revolution is intended to provide a framework for leaders so they can engage and exchange ideas – to learn from one another and share best practices. It breaks down silos, and helps leaders broaden their understanding of the business in real time. Equally as important, it shifts organizational development from an isolated 1-to-1 coaching approach or a "sage on the stage" event, to a collective 21st Century shared learning experience.
Question: What are the most common leadership derailers and how can they be prevented or fixed by Peer Coaching?
It's true that the more successful you are, the less support and feedback you'll receive. And, with that, it's easier to become a bit too comfortable – a bit less bold, less creative, and less willing to take risks. That "velvet rut" becomes a place where leaders lose sight of their blind spots, triggers and biases. Nor do they shift easily or adapt to new realities. And, that's a dangerous place to be.
Group coaching gives leaders a safe space to get support and feedback from trusted peers. It allows them to learn from the wisdom of the group and reflect on their own motivators and drivers, so they can have the courage to step out of their comfort zone. It's a more purposeful, self-aware and intentional way of approaching leadership. And, while there is group support and accountability, group coaching is also a potent combination of self-exploration and the autonomy to tackle real issues head-on.
Question: Looking into the future, what do you anticipate will be some of the main challenges leaders will face?
If leaders were already dealing with change and disruption, then the pandemic just amplified that a thousand times. Maintaining morale and growth in a time of extreme uncertainty is the biggest challenge facing leaders and organizations currently and in the future. To boost organizational resilience, leaders have to build strong relationships not only with their teams but across the organization. To do this, they will need to elevate their "to be" list to the same level as their "to do" list and harness the full power of peer networks.
It's also an opportunity to lead in a new, more positive and impactful way; a way that brings in all of those elements that we discussed earlier – better communication, greater creativity and enhanced collaboration.
Question: What are three critical components of a Grassroots Leadership Revolution and why are they important?
The three critical components are shared purpose, clear expectations and leadership.
Shared purpose is a foundation of success, as you need people who have shared interest in personal development, are willing to be open and share experiences, and are ready to make a commitment to the group.
Next, without well-established "rules of the road," people will create their own. There are three key areas to set clear expectations: attendance, time commitment, and the responsibilities of participants. Everyone must be on the same page on what happens if a group member misses a coaching session or two, how often you will meet and for how long, and what roles they will play.
Lastly, there is a myth that most peer groups are self-directed. The truth is that if any group is going to become self-directed, it needs to start with good leadership. If you are the person organizing the group, expect to lead it until its own rhythm and cadence can start to emerge. Around the fourth or fifth session, you tend to see trust deepening, and more equal participation. This is where as a leader you can look for opportunities for the group to become more autonomous or start rotating group leadership to encourage collective ownership.
Question: What is your best advice for leaders and aspiring leaders in terms of their lives and careers?
The real estate market talks about the importance of "location, location, location." When it comes to leadership, the watchword is "collaboration, collaboration, collaboration." The ability to build alliances and collaborate with people, as well as connect the dots between our own departments and throughout the organization are now crucial skills. A diverse and well-connected peer group gives leaders the knowledge and a bigger picture perspective. Leaders that can build communities, in their lives and in their careers, will have more influence and more of a deeper impact.
Question: What is the best advice you would give your 12 year old self?
Believe in yourself and trust yourself more.
Question: How can people reach you? What are your forthcoming presentations? Are you also doing consulting on creating cultures of collaboration through Peer Coaching?
They can visit us at GoRoundtable.com, and follow us on LinkedIn, Facebook, Twitter, and Instagram. Any webinars and events coming up can be found on our Events page, with links to registration. And, we work with a variety of clients across industries and sectors to build collaborative cultures. You can find case studies and testimonials on our website. As a quick glimpse of what's on our books these days: we're helping a global CPG company shift to a culture of accountability, a national retailer develops agility in their leaders and an innovative insurance company strengthens their ability to grow high-performance teams quickly. Group coaching programs are always varied and tied to the strategic requirements of the client we're working with. There's never a dull moment!


http://justcoachit.com/blog/wp-content/uploads/2016/05/Version-One.png
0
0
Irene Becker
http://justcoachit.com/blog/wp-content/uploads/2016/05/Version-One.png
Irene Becker
2020-09-01 16:03:48
2020-09-01 16:03:54
The Grassroots Leadership Revolution