Great Read: Fascinate YOUR 7 Triggers to Persuasion and Captivation by Sally Hogshead… author of Radical Careerist. Yes, I am hot on Hogshead whose books are enlightening, creative and utterly fascinating!
[google-translate]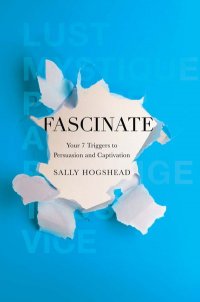 How Fascinating Are YOU?
A few nuggets from this gem of a book:
…"the key to mastering fascination is effectively activating the seven triggers: LUST creates craving for sensory pleasure. MYSTIQUE lures with unanswered questions. ALARM threatens with negative consequences. PRESTIGE earns respect through symbols of achievement. POWER commands and controls. VICE tempts with "forbidden fruit," causing us to rebel against norms. TRUST comforts us with certainty and reliability.
"Whether you realize it or not—whether you intend to or not—you're already using the seven triggers. The question is, are you using the right triggers, in the right way, to get your desired result? By mastering the triggers, your ideas become more memorable, your conversations more persuasive, and your relationships more lasting.
"The Wizard of Oz said, "A heart is not judged by how much you love, but by how much you are loved by others." The true measure of fascination lives not in your own communication to the world, but in how the world communicates about you. If this sounds emotional, that's because it is. We don't intellectually evaluate messages—any more than we intellectually evaluate whether someone's voice is high or low.
Hogshead, Sally (2010). Fascinate: Your 7 Triggers to Persuasion and Captivation HarperCollins
Irene Becker, Chief Success Officer, Just Coach It-The 3Q Edge™ www.justcoachit.com | twitter
Helping Smart People Work, Lead , Communicate Smarter and Happier in High Stress, High Change Environments