The Ultimate Fact Finding Guide by Ripenn
Irene Becker, Just Coach It-The 3Q Edge™ | (IQ-EQ-SQ) Reach-Resonance-Results
3Q Leadership™ Blog- 35,000+ Social Media Followers & Growing!  [google-translator]
Do you want to get in the know?  Find stats from authoritative sources?  Enjoy a great guide to interesting statistics from authorative sources, complied by the great team at Ripenn.  Zowie, this is an excellent guide/resource that content marketers, writers, learn-aholic geeks and non-geeks will enjoy!
[pullquote align="left|center|right" textalign="left|center|right" width="30%"]Animals[/pullquote]
Humane Society – How many cats and dogs are kept as pets in the United States? Check out these pet ownership statistics and if you want to shed a few tears, there is also information on animal euthanasia
The Animal Genome Database – If you are willing to get down and dirty with some scientific vocabulary, this site will unlock loads of information about animal species.
National Geographic Animal Facts – Want to know more about the Eastern Gray Kangaroo? No problem – Nat Geo has got you covered. You'll love all of the rich media available here on hundreds of animal species.
Database Sports – Don't let the early 1990′s web design throw you off. This site gives great historical data across a variety of major sports.
[pullquote align="left|center|right" textalign="left|center|right" width="30%"]Business[/pullquote]
Compete – Although Compete is primarily a paid service, there are plenty of free reports for download. Check out the marketing optimization reports to get a better taste of what you can grab for free.
Census.gov: Business – U.S government reported statistics regarding business and industry. Drill down by sector (e.g. "retail") or browse current trends like the status of the residential real estate market.
Nielsen –  Another mix of paid and free resources. Start by checking out the reports section.
Forbes Lists – How many billionaires are there in the world? Which dead celebrities make the most money today? The sky is the limit for what you can create from these lists.
[pullquote align="left|center|right" textalign="left|center|right" width="30%"]Demographics[/pullquote]
Census.gov: People – The government census publishes free data on your fellow citizens. Dive deep into the 2010 census results to find more information on people and households in the United States.
Geohive –  A comprehensive view of global  population growth statistics. Updated frequently with growth forecasts and historical trends.
Internet World Stats – Take a look at global internet usage and population statistics.
[pullquote align="left|center|right" textalign="left|center|right" width="30%"]Finance[/pullquote]
OECD – Records the inflows and outflows of Foreign Direct Investment ("FDI"). Find out which countries are receiving the most investment.
NCVA – The National Venture Capital Association records quarterly data for all things related to VC investments. Want to know how many venture backed start-ups were acquired last year?
Scottrade Market Statistics – Scottrade provides an excellent resource that records performance across each major stock exchange. There is also loads of charts and data visualization to help make sense of everything.
Yahoo Finance – Beyond data and stats, Yahoo Finance provides a good roundup of the latest financial news, which often leads to helpful primary sources.
[pullquote align="left|center|right" textalign="left|center|right" width="30%"]Entertainment[/pullquote]
Statistic Brain: Television Consumption – These guys pull from a variety of primary sources. Check out their stats on TV consumption.
MPAA: Industry Reports – You know the MPAA as the guys who rate movies (rated "R"). But they also put out some awesome data on the financial and social impact of the movie industry. Check out their industry reports.
ESA: Industry Facts – Everything you ever wanted to know about video gaming. Check out the economic impact, average gamer age, and even information about the parents of gamers.
[pullquote align="left|center|right" textalign="left|center|right" width="30%"]Health & Safety[/pullquote]
America's Health Rankings – Health stats for the U.S. Helpful maps that drill down by state.
World Cancer Fun International –  Worldwide cancer statistics. Also facts and figures for related topics like  lifestyle factors that are associated with cancer.
Texting & Driving Stats –  All things related to the dangers of texting while driving. In their words, LOL leads to TTYL.
[pullquote align="left|center|right" textalign="left|center|right" width="30%"]Food & Agriculture[/pullquote]
Statistic Brain: Fast Food – All the dirty details about fast food consumption in the U.S.
USDA – The United States Department of Agriculture has more than a few things to say about food in the U.S. We like the quick stats tool that lets you browse facts and figures by category (e.g. commodity type).
FAO – Food and Agriculture Organization of the United Nations has worldwide stats available for online viewing or PDF download. Did you know that there are 840 million people living on earth who are undernourished? A good place to start browsing is the statistical yearbook.
[pullquote align="left|center|right" textalign="left|center|right" width="30%"]Education[/pullquote]
National Center for Education Statistics – A Federal source for facts on education in the U.S. Use the quick reference tool to uncover facts and figures.
Education Bug – Get details on school districts, public/private schools, and universities within the U.S.
StatsAmerica: Education – Which states are wicked smaht and which ones are…well, not inclined to read…or write? Find out educational attainment levels and college enrollment stats by state.
College Stats –  Take a deep dive into the world of colleges, both online and in-person. Use the links in the right side navigation menu to browse colleges by size, cost, demographics and accreditation.
[pullquote align="left|center|right" textalign="left|center|right" width="30%"]Economy[/pullquote]
StatsAmerica: Economy –  Get GDP, household income, and much more. Use the drop down menu at the top of the page to drill down by state.
Bureau of Economic Analysis – A federal source for key economic indicators. Break out the stats by industry or take a look at the figures which impact international trade.
The World Bank – Global economic development stats and key indicators.
Bureau of Labor Statistics – How many of us are working here in the U.S, what are we getting paid, and are things getting better or worse?
International Monetary Fund –  Find figures on IMF lending, exchange rates and other key indicators.
[pullquote align="left|center|right" textalign="left|center|right" width="30%"]Music[/pullquote]
Recording Industry Association of America (RIAA) – The go-to official source for industry reports, piracy impact studies and economic contributions.
GrabStats – Wow. Lots here about the music industry. Everything from illegal downloading stats to worldwide industry revenue
IFPI – Check out the certification awards – i.e who went platinum this year? Or check out the digital music report to measure the impact of downloads and other types of purchases online.
Sports
SportsStats.com – More than 50,000 standings covering 9 major sports.
NCAA Official Stats – The name says it all. Get official stats across 15 different college sports, yes, even Rifle and Women's Ice Hockey.
[pullquote align="left|center|right" textalign="left|center|right" width="30%"]Transportation[/pullquote]
Bureau of Transportation Statistics – Absolutely everything you could ever want to know about transportation. For example, find quarterly fare data from airlines since 1995. We recommend starting at Data & Statistics > By Mode.
[pullquote align="left|center|right" textalign="left|center|right" width="30%"]Tools[/pullquote]
Census.gov tools list –  Census.gov put together a roundup of their favorite tools using census data. This is a great place for inspiration. For example, check out the data visualization gallery to see how others have creatively presented things like employment stats and demographic data.
Google Trends – What are the hot topics that people have been searching for around the world? Google trends gives you fantastic "top" charts to find the most popular topics in every major category. Spoiler alert: Miley Cyrus was the most searched individual in 2013.
Facebook Advertising – Need to pull some highly niche stats? Facebook has got you covered. With a billion users and counting, they've given you a significant sample size of roughly 1/7 the world's  population. Not bad.  All you have to do is start creating an ad. When you select targeting parameters for the ad  (likes, age, location, language), Facebook will give you an estimated audience count. Want to know how many men in New York between the ages of 18-24 like poodles? Me neither.
APRIL NEWS/EVENTS
_______________________________________________________________________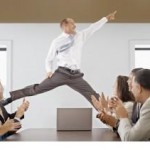 Building A Communication Strategy That Puts YOU Ahead of The Game | April 7, 2014  Inviting subscribers  in Toronto to join me for PMI Lakeshore dinner meeting and presentation  
Project Manager's Success Summit | April 25-27, 2014  Virtual Learning Event with a Great Selection of Project Management and Leadership Experts! (PM credits)  Delighted to be presenting.
_______________________________________________________________________